AUC Spinoff Suitera Receives $230K Investments in Early Stages
AUC Spinoff Suitera Receives $230K Investments in Early Stages
At the March 8 launch event of Suitera, AUC's latest spinoff, the company received a $100 thousand investment from Walden Rhines, a leading figure in the Electronic Design Automation (EDA) space. Rhines was CEO of Mentor Graphics, one of the big three players in the EDA space, for 24 years and assumed key roles in the industry throughout his career. Mentor Graphics market value has increased tenfold during his time as CEO. He has overseen Mentor Graphics acquiring more than 100 companies and the acquisition of Mentor Graphics by Siemens for more than $4 billion.
In his keynote at the Suitera launch event, Rhines said, "I have worked with Dr. Yehea in the past, I worked with Magdy, and I have confidence in the Suitera team. Personally, I have invested 100,000 dollars of my money in Suitera because I believe in this team, and I believe they will grow a successful business. And I am hopeful that others in Cairo and around the world will do the same, join in, and take advantage of this opportunity to invest and to work with them."
Rhines added that the cofounders, Magdy Abadir, Yehea Ismail and Eby Friedman are all "outstanding in the field."
The event brought together the AUC board of directors, experts in the tech field and an array of PE and VC firms. Suitera is a semiconductor startup that aims to provide tools and solutions that help handle the complexity involved in the design of next generation integrated circuits, such as 5G circuits. The company was founded in 2020 by AUC's own Yehea Ismail, professor of electronics engineering and director of the Center of Nanoelectronics and Devices at AUC, as well as Magdy Abadir and Eby Friedman, who are veterans of the EDA industry. Suitera now has one viable product being tested by global market leaders, another product in development and more products on the way.
"[Suitera is] attacking the field of intolerance," Rhines said. "It has an effect on the electric performance of integrated circuits, but it was largely ignored by designers." With integrated circuits becoming more complex, and as features are backed more tightly into the circuit, there are more costly failures in design. Failures that Suitera is aiming to fix.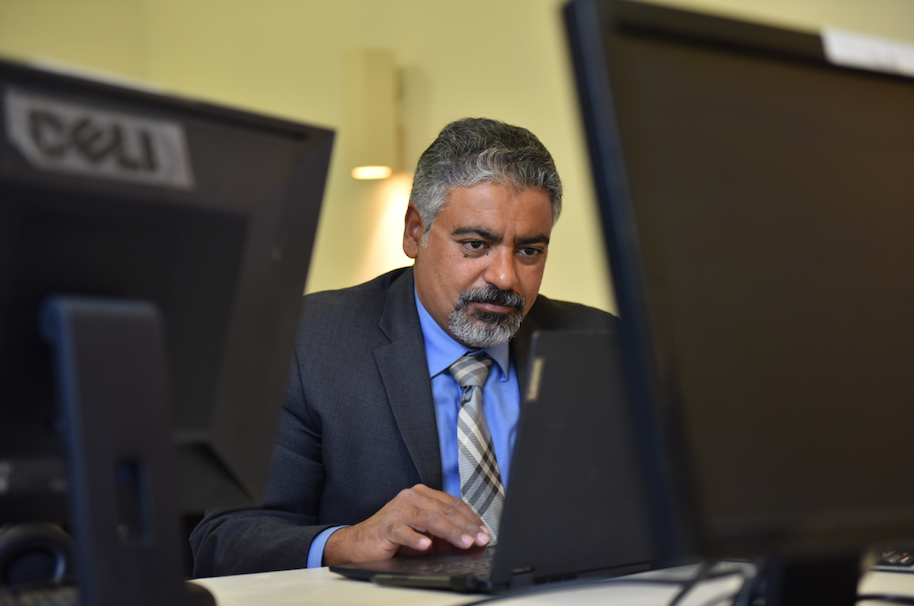 Three other private investors have invested another $130 thousand in Suitera following the initial investment by Rhines, bringing up the total to $230 thousand.
"Suitera is a great success for AUC for two reasons. First, they are starting off on the right foot by having investors ready to support them as they launch. Second, they are playing a crucial role in moving ideas from the lab-bench to market, supporting AUC's goals of converting Egypt to a knowledge-based society," said AUC Provost Ehab Abdel-Rahman.
Professor Yehea Ismail said, "I think we have the right ingredients: a very strong expert team, a critical market need, high reputation worldwide, a wealth of relations in the field, access to relatively low cost talent, previous startup successes, AUC support, and very unique initial products and IP."
Ahmed Ellaithy, senior director at AUC's Technology Transfer Office, said that the timing and the expertise the investment comes with is an extremely positive sign of the commercial potential as well as the impact the technology could have on the semiconductor industry and chip design.
"Securing investment from such respected and trusted figures in the space means other potential investors and clients are more assured of both the business case as well as the technology and product the startup is built around," he added.
The financing will be used for hiring talent and continuing to build their products and pursue the market, as well as tap into the expertise that comes with the investment partners. The willingness of investors to be part of Suitera from the onset indicates confidence in the growth story of the startup and eagerness to influence its path towards success.
"Investing early means the investor gets to buy shares at an early valuation point and should see the value of his shares appreciate as the company's value appreciates as it grows and moves from success to success," Ellaithy said.
"I believe Suitera's domain of impact on many industries and areas of knowledge-based economy is wider and deeper than we see now .. this is just the beginning" said Alaa Edris, associate provost for research, innovation, and creativity at AUC.
"We are very hopeful and actually excited about the prospects of Suitera and the interest we are receiving from the industry, investors, and the community," added professor Yehea Ismail